Address:
National Archives
Bishop Street,
Dublin 8,
Ireland
D08 DF85
Phone number: +353 (0)14072300
Email address: query@nationalarchives.ie
Website: https://www.nationalarchives.ie
Carlow is a county located in the South-East Region of Ireland, within the province of Leinster. As of 2016, the county had a total population of 56,932.  Carlow's county is also known as the "County of Dolmen", a nickname obtained from a Brownshill Dolmen moniker, a 6,000-year-old megalithic doorway grave that is believed to contain more than 100 metric tons of heavy capstones in Europe. In 1207, the city of Carlow was built by the Normans and soon afterwards, it became one of Ireland's ancient counties. Throughout the fourteenth century, from 1361 to 1374, the county was the center of power of the Kingdom of Leinster, and the capital of the Lordship of Ireland.
In 1926, Carlow was the site of Ireland's first succulent beet factory, which was thriving in the country's economy for the last 80 years. Carlow was a place for its industry in the 1960s for multinational firms such as Braun and Lappel.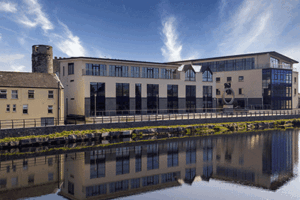 Carlow has quite a rich and diverse sporting background, like in all other Irish counties. The eighteenth century has seen handball, hurling, footballs, golf, horseracing, and rowing. The Carlow branch of the GAA, formed in 1888 to promote Gaelic activities, has a passion for Hurling and Gaelic football all throughout the region.
As an agricultural and industrial county, Carlow's county has plenty to offer for its people and tourists. Carlow is a dynamic, contemporary, and constantly growing city and looks confidently towards the future. Cultural and leisure amenities abound and provide young and elderly a great quality of life. Carlow is a continually expanding and progressive town and is an appealing place for everyone to come visit, explore, or even work in.
Carlow County Birth Records
You may begin your searching quest for birth records by contacting the General Register Office (GRO) or the Ireland National Archive, since they both have the documents, you need. Preparing for your visit beforehand is a useful technique that could allow you to make your visit more effective. Birth records are a valuable source of information since they contain information such as a person's name, age, sex, and even information about their parents, which could be extremely helpful you find the individual you are looking for.
Carlow County Death Records
For several centuries the death records of Carlow County have been maintained. A brief visit to the General Register's office can certainly assist you with your search and guide you to the freely accessible death records, going all the way back to 1837 till 1957 and 1984 to 2019. You may discover the entire name, sex, marital status, age and time, place and reason of death for the individual you are looking for in a death record. If their records originate from 1855, the place of birth, names and ages of the children can also be retrieved.
Carlow County Marriage Records
If you want to know more about a person you are looking for, you may get a plethora of information from Carlow County marriage records. If you are seeking to find marriage records in Carlow, the General Registry Office or Carlow County Council are the most efficient and helpful locations to visit. For specific information, like entire spousal names, the marriage day and the place of the wedding, you may search via a comprehensive database. You may also know about the job and profession of the person you are searching for.
Carlow County Divorce Records
It was not until 1995 till Ireland passed legislation permitting civil divorce. Divorce proceedings, records, and archives focus on providing you with a wealth of information about previously married couples or the divorced person you are searching for. You may, for example, acquire the names, location, and marriage date of the divorced couple. There's a high possibility you will be provided with far more information from divorce records, such as, the year the petition for divorce was filed, the occurrences that prompted to it, and the person who initiated filing for the divorce.
Carlow County Genealogy Records
If you are looking for a family relative, it can be beneficial to find information about birth, death and marriage. If you have a divorced member of your family or if you have a divorced member of your family, divorce paperwork received from the courts may be beneficial. Moreover, parishes and church documents may also be valuable to unearth vital information for your search, such as wills, funerals, births, and tax lists.
Carlow County People Search Records
You could want to know more about a person for a myriad of purposes. You may choose to begin your searching quest by planning a visit to the office of the General Register. You can also explore other resources, such as local libraries and newspapers. Birth, death, and marriage documents are only some of the records with a tour to these destinations.
Carlow County Court Records
Nearly every court matter requires preserving the records of it proceeding. Therefore, the Ireland National Archives contains the records, archives, and records of the Court, most of which date from 1992. A multitude of valuable information, including marriage certificates, asset transfers and specified financial transaction may be provided to you from court records. Additional information, such as court dates, could also be obtained from local newspapers.
Carlow County Criminal Records
You can visit the national archives office to look for criminal records using the wide database of documents and records found at their offices. It is a smart option to acquaint yourself with federal court legislation for your search procedure to flow more efficiently. For example, a segment may describe a person who has committed a crime, or a serious accident reported by local news media for more information regarding the person that you are searching for. Contemplate if the person you are looking for may be a criminal, a victim, or an eyewitness on a crime.
Advertising Disclosure: This post may contain promotional links. publicrecordsearch.co.uk may be compensated if you use these links.