Search for Marriage Records in the UK
Marriage records are one of the most accessible record types in the UK. Historical and current data are available from multiple sources. The easiest way to locate marriage records in the UK is online through a private database. Our sponsor, with the search box on the right hand side of this page, is an example of a private database that has marriage records. Marriage records and other vital records are originally recorded by government agencies, and contacting these government agencies is also a good way to obtain marriage records in the UK.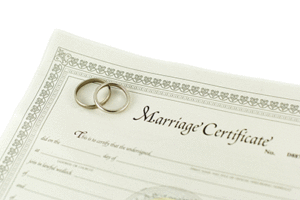 The UK Government website is a great place to start. They have a section dedicated to researching marriages, births, divorces, and other civil records. The webpage you need to access is:
Another excellent source of information is the National Archives. They maintain copies of almost every public record processed by the United Kingdom either in paper form, microfiche, or in a digital format. You can visit their offices at:
The National Archives
Kew
Richmond, Surrey TW9 4DU
United Kingdom
The National Archives phone number is 44 20 8857 3444. You may wish to call ahead to verify they have the types of records you are looking for.
Many times, the easiest way to locate marriage records is to avoid the main government offices and go to the regional office. You can find the location of your regional office by visiting our UK Interactive Map.
You can quickly narrow down where to search for regional records using our map. Just click on the area of the map for which you are seeking records.
What makes this site extremely helpful is the maps it provides. You look up the addresses of the regional records locations and it provides you with the proper contact information.
We recommend you start your search online. This helps reduce the time it takes you to locate the marriage records. If that process fails, use the search system listed above to find the regional office near the location of the marriage. They can help you research local and national records in the UK.
England Marriage Records
When you're looking for the marriage history of relatives or someone in your past that lived or got married in England, there are certain types of information you may be on the lookout for.
Before you begin your search, it is important to note that you might not be able to find all the information you are looking for. Some of the information in a transcript may not be complete, while you may not find any records of some at all. This may be because they eloped or were in a common-law marriage.
Information you find in the database varies; it may be missing details like contact information of the witnesses to the wedding in a marriage transcript, however, you may find their names, which can give you clues.
What type of information should you expect to find on the records? Results from a search may include age, Name, age, name of spouse, age of spouse, marriage date, the location where the marriage took place, and the parents' names for both bride and groom. You can also search local archives and the National Archives to help research your family history. You should be able to get info for
• Bride's and groom's names
• Date and location of the marriage
• Ages of the couple
Scotland Marriage Records
Scotland marriage records online date back to 1855, so you have an extensive database to dig up the necessary information. In a Scotland marriage records transcript, you will find information from the original register, which may vary depending on the available data. You can check out the Statutory Register of Marriages for relevant info.
Scotland Marriage Records provide useful information Most records include:
• when, where and how married
• names of parties
• occupation of bride and groom
• whether parties were single, widowed, or divorced
• their ages
• addresses of bride and groom
• name, surname, and occupation of father
• name and maiden surname of mother
• signature of witnesses
• where the marriage was registered and signature of registrar.
Wales Marriage Records
Searching for records for marriages that took place in Wales can be tricky. Marriages over the years (although not up till the present day) were recorded in the district register. In July 1837, England & Wales was subdivided into administrative areas called Registration Districts. Typically, marriages took place in the bride's parish, which may not necessarily be the same as the groom.
The issue with collating marriage records back then was that they delayed in getting to the central register. They were collated quarterly in March, June, September, and December into one single index. There was a lot of inaccurate information in these records and some falsified details, such as age to prove that the couples were old enough to be married. If you are tracing a marriage before 1 July 1837, look for parish registers in local archives.
Nevertheless, marriage records from Wales still contain a lot of useful information. These include
• the bride and groom's names,
• parents' names,
• names of witnesses,
• marriage year and
• a quarter, district, district number, county, country, and month of registration.
Northern Ireland Marriage Records
Civil registration of marriages and other types of records began in Ireland between the years 1845 and 1864. The records listed on Irish marriages hold a great deal of information to help you uncover your Irish roots with specific events about Irish events listed within.
If you are searching for marriage records from marriages conducted in Northern Ireland, you should know that the information you find may vary quite a bit, based on the information derived from the original Irish registers. Northern Ireland Marriage Records include details like the first and last names of both spouses, the year the marriage took place, the registered quarter of the year, and the registered district where the records were made.
Search GRONI's Online Records
You cannot locate multiple marriages in a single search but you can find
• bride or groom's surname
• bride or groom's first forename
• date of marriage, year of marriage, or year of marriage range
• registration district
Advertising Disclosure: This post may contain promotional links. publicrecordsearch.co.uk may be compensated if you use these links.
---
UK Marriage Records FAQ
What are UK marriage records?
UK marriage records are official documents of a marriage between to people that typically include personal information about the spouses as well as the time, date and location of the marriage.
What information can I find in a UK marriage record?
You can find the names of the married individuals as well as their residence and the time and location of the marriage. It may also have the names of the parents listed on the marriage certificate.
How far back to marriage records go in the UK?
Marriage registries in England and Wales official started recording marriages in the early 1800's. Parish registers recorded marriages from even further back.
How do I search old UK marraige records?
You can use online public record websites, the UK National archives and genealogy website to lookup marriage records in the UK as long as they are not sealed and available to the public.
Can anyone look up UK marriage records
You can look up older UK marriage records that are not sealed and are available to the public. Typically only the older marriage records are available to the general public.
Can I search UK marriage records for free?
You can find some free UK marriage record information however it may be somewhat limited. You can find more extensive marriage records though the National Archives, genealogy websites and various public record websites. Some online resources offer more free information than others.
What is a Parish marraige record?
Parish registers were kept by the the Church of England to record baptisms, marriages and burials. These can be useful for researching older marriage records.
Are partnership records the same as marraige records?
Partnership records, or civil partnerships, are recorded similarly as marriage records are. THe UK introduced these different types of records in 2004 that reflect the diversity in marriages.
Are birth certificates public record?
Certificates of birth are not public records however birth records are publicly available from 100 years ago. You can however, access your own birth certificate record by contacting the registry office in the country you were born in.
How long does it take to get a copy of my birth certificate?
It can take several weeks depending on the registry office. You can request priority service for a fee to expedite your birth certificate to you.
Why do I need my UK birth certificate?
You will need to have your birth certificate in the UK for various reasons including a passport application, driver's license, a marriage license, or confirming your identity.
---