Regions in Northern Ireland You Can Search
The Public Record Office of Northern Ireland
The Public Record Office of Northern Ireland also known as PRONI is a government entity which is the official archive for Northern Ireland. One of the organization's objective is to identify and preserve records of historical, social and cultural importance to become available to the public for information, education and enjoyment purposes. They also advise and promote archive and record management to ensure that today's records is available for future generations.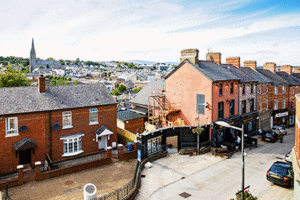 The major function of PRONI is to preserve significant public records, encourage usage of archives throughout various sectors of the community and meet legal requirements for public access. Apart from the holidays, The Public Record Office of Northern Ireland is open on weekdays. Records are available providing all sorts of historical information such as The Great Famine, history going from way back about an area, even family backgrounds. Personal information is also accessible such as proof of divorce, deaths the list goes on. One is also encouraged to request more personal information in advance if records are not obtainable upon immediate request.
The office does provide various services mainly with the purpose of accommodating customer satisfaction. They have a self-service microfilm room for quick accessibility to records on microfilm. These records go way back as far as the 1800s. A lecture room is available for educational use and group visits. There is an in-house laboratory for deposited archive repairs in case needed. One can obtain loan of documents for various exhibitions. Educational services which include teachers' assistance and school visits can be utilized. Help desk fully trained staff are available to offer advice and information about conducting research and the usage of archives to fulfill the benefit of customer service. Inquiry services for written and email inquiries is encouraged to make use of for one's advantage. The list goes as the organization continues to boost through further expansion.
Northern Ireland Public Record Office holds millions of documents that relate exclusively to Northern Ireland. These records cover a period of time going way back from c.1600 to the present. Records included are of Government Departments and other non-Departmental public organizations such as courts, schools and hospitals.
Advertising Disclosure: This post may contain promotional links. publicrecordsearch.co.uk may be compensated if you use these links.