Address:
|66 Balmoral Avenue
BELFAST
County Antrim
BT9 6NY
Phone number: 028 90251318
Email address:  eis.webmaster@executiveoffice-ni.gov.uk
Website: https://www.northernireland.gov.uk/
Antrim County
County Antrim is located on the northeast coast of Ireland. It has a population of 618,108 residents. It is a county rich with culture and history preserved by the public record office.  The Public Record Office of Antrim is located in Belfast, County Antrim, BT9 6NY. You can contact the office by phone at  028 90251318 or by emailing  eis.webmaster@executiveoffice-ni.gov.uk. In case you traveling there for the first time, you need to bring with you photographic identification.  There are many resources for you to search such as church records, business records, estate records, and even emigrant letters. Moreover, the public record section includes governmental records, non-departmental public institutes, and court or any legal document. Staff is always available to offer their guidance and answer any questions you may have.
The County is famous for the rich history of its Celtic origin. The county's existing parishes embody a number of townlands which contributes greatly to the knowledge of one's ancestral background and comes in handy during research. Many researchers use this public record office for identification purposes and the ability to have access to preserved records.
Church records that are found at the Antrim public office are taken advantage of for anyone interested in tracing their family tree. They comprise of registers of baptism, marriages, and burials. Civil registers for births, marriages, and deaths go way back from the 1800s and can be found in their general registry department. The census records that the public office holds such as that of the year 2001 showing a population of up to 75,000. Among other records that can be retrieved from the office include Bible records, Biographies, and even Headstones.
The estate papers of the Earls of Antrim form one of the largest collections of deposited papers in the Antrim public office, these documents comprise of approximately 50,000 documents anywhere from descendants and the people who lived and worked on the estate over a period of 300 years. Such information plays a great role in the history of Antrim County.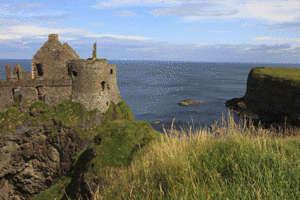 The date of formation of Antrim county is largely unknown. In the past, it used to be inhabited by the Celtics. Then, at the end of the 12th century, it was conquered by the English. Tourists mainly pluck to visit its breathtaking forts, trenches, and castles in addition to its vast mountain hills. Antrim also faces Scotland, which makes it a great point for interaction and trade between it and Scotland.
Antrim County Birth Records
To obtain birth records, you can resort to the General Register Office, where you can find records dating to 1864. Some records are not available online, but you can always visit the Public Record Office of Northern Ireland to view them by scheduling a visit beforehand. The birth records contain a person's name, age, gender, and even information about the parents, which can be very helpful for your search.
Antrim County Death Records
Death records from 1864 can be found at the General Register Office. In the record, you can find information on the deceased's name, occupation, age, marital state, and place or date of death. In Northern Ireland, you can sometimes identify the name of the father of unmarried adult females.
Antrim County Marriage Records
You can order marriage certificates at the General Register Office. Full names of the spouses and the date of marriage can be found in addition to the names and occupations of the fathers.  Since 1956, the dates of birth of the spouses have been recorded along with names of the parents and intended place of residence.
Antrim County Divorce Records
To obtain a divorce record in Antrim, you need to contact the court. Courts that you can resort to include the Royal Courts of Justice (Belfast) or Antrim's county court. The website of Northern Ireland Court Service can help you greatly in your search. It holds catalogs for records on cases of child abduction, court hearings, and tribunals among many more.
Antrim County Genealogy Records
In order to carry out a genealogical search of your family history or to trace a long-lost relative of yours, records registered at the Antrim Record Office can be the best place to start. On the website Familysearch.org, you can find different kinds of records including birth certificate records, death certificate records, and marriage records. You can always resort to the General Registrar Office for more information according to the specified dates and names
Antrim County People Search Records
Searching genealogical records is the major place to start looking in case you tracking a long-lost family member. To do this, you can refer to the General Register Office or Familysearch.org. Other useful resources include libraries in Antrim county or any local newspapers that may give you more clues regarding your search.
Antrim County Court Records
The National Archives of Ireland contain plenty of court records.  The Royal Courts of Justice (Belfast) or Antrim's county court can be useful as well as they have a vast collection of legal documents. Files contain evidence information, copies of decrees, birth or marriage certificates, along with a record of the court process.
Antrim County Criminal Records
Criminal records usually contain the person's name, location of birth, age at the time of the conviction, the sentence, conviction time, and conviction place. However, the person you are looking for should not necessarily be a convict. He/she can be a victim or a witness to a crime. Criminal records can be found at the Royal Courts of Justice (Belfast) or Antrim's county court. Local newspapers can also offer more information about the person in mind if for example there is a section about him/ her mentioning a crime or any unfortunate incident.
Advertising Disclosure: This post may contain promotional links. publicrecordsearch.co.uk may be compensated if you use these links.