Address:
National Archives
Bishop Street,
Dublin 8,
Ireland
D08 DF85
Phone number: +353 (0)14072300
Email address: query@nationalarchives.ie
Website: https://www.nationalarchives.ie/
Dún Laoghaire–Rathdown County
Dún Laoghaire–Rathdown is a county in Ireland that is part of the province of Leinster. In 2016, the county had a population of 218,018. The National Archives of Ireland carries the function of the Public Record Office of Ireland.  If you plan to visit, it is crucial to bring along photographic identification and proof of address. The Reading Room is open Monday to Friday from 10.00 until 17.00 to visitors with a reader's ticket. You can also order different documents and microfilms from 10.00 to 12.15 and 13.30 to 16.00.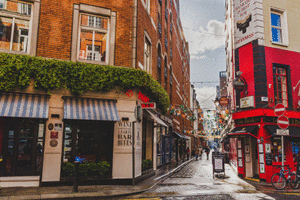 Dún Laoghaire–Rathdown was formed in 1994 after combining the parts of the Dublin city council and the corporation of Dún Laoghaire. It is known for being the smallest county in Ireland and for having the longest name. Also, its captivating geology attracts tourists from around the globe. The county's landscape was formed due to the ice age passage, and it displays various rock types including schists, limestone, and granite. Throughout history, it was ruled by many tribes such as the Uí Theig and Uí Briúin.
Dún Laoghaire–Rathdown County Birth Records
The General Register Office has birth records dating to 1 January 1864, which you can access for free online. The pre-1870 registers were public and some had been deposited in the Public Record Office of Ireland (PROI), which is now the National Archives; however, they were abolished in 1922. For approximately one-third of the parishes in the county, registers persist. The National Archives has microfilm or other versions of the surviving Church of Ireland parish registers where you find birth certificates as well.
Dún Laoghaire–Rathdown County Death Records
To get Dún Laoghaire–Rathdown's death records, you need to visit the General Register Office since these records are not available at the National Archives. The records indicate the name, age, marital status, and period of sickness. Also, the date, location, and cause of death are stated in addition to the informant's signature, qualification, and dwelling.
Dún Laoghaire–Rathdown County Marriage Records
To obtain marriage records in Dún Laoghaire–Rathdown, you can resort to the General Register Office or the Dún Laoghaire–Rathdown County Council. There you can search a huge database of records and find specific information such as the full names of the spouses and the date of marriage.
Dún Laoghaire–Rathdown County Divorce Records
It was not until 1995, that divorce became legal in Ireland. To search and obtain divorce records in Rathdown, you can start at the National Archives of Ireland. A large number of details can be derived from their records that can be helpful for your search. For example, you can uncover the names of the spouses divorced, their age, and possible details about their families or the children that they may have had.
Dún Laoghaire–Rathdown County Genealogy Records
You may need to carry out a genealogical search in case the person you are searching for is a suspected family member or if you are just curious about your ancestry. The National Archives of Ireland allows you to access a vast collection of public records about death, marriage, divorce, crime, employment, and migration. Thus, you obtain many key points that can make your search much easier.
Dún Laoghaire–Rathdown County People Search Records
The General Register Office and local libraries in Dún Laoghaire–Rathdown can provide you with information if you are searching for missing people or possible ancestors. The Dún Laoghaire–Rathdown County Council is a useful place to search as well. Other resources include local newspapers that can contain additional information about the person that you are looking for.
Dún Laoghaire–Rathdown County Court Records
National Archives of Ireland contains many court records that date to 1992 when the Irish state was formed. Local libraries and newspapers may contain helpful information like reports of crimes and court dates. Court records include documents of court hearings, marriage or divorce certificates, and birth or death certificates.
Dún Laoghaire–Rathdown County Criminal Records
The National Archives of Ireland can help you find criminal records. The majority of the legal records before 1983 are available online, which you can browse through before your visit. This is recommended by the staff to save time and obtain the best results. In the criminal records, you can find a person's full name, date of birth, gender, and other details. Keep in mind that the person you are looking for can be a criminal, a victim, or a witness to a crime. This tip can aide you in your search and widen your search strategy.
Advertising Disclosure: This post may contain promotional links. publicrecordsearch.co.uk may be compensated if you use these links.