Address:
National Archives
Bishop Street,
Dublin 8,
Ireland
D08 DF85
Phone number: +353 (0)14072300
Email address: query@nationalarchives.ie.
Website: https://www.nationalarchives.ie/
Galway City
Galway is a famous city located in the province of Connacht, west of Ireland. It had a population of 79,934 residents in 2016. The National Archives of Ireland carries the function of the Public Record Office of Ireland. It is located in Bishop Street, Galway 8, Ireland, D08 DF85. To contact the office you call at +353 (0)14072300 or email query@nationalarchives.ie. If you plan to visit, you need to bring photographic identification and proof of address. The Reading Room is open Monday to Friday from 10.00 until 17.00 to visitors with a reader's ticket. You can also order different documents and microfilms from 10.00 to 12.15 and 13.30 to 16.00.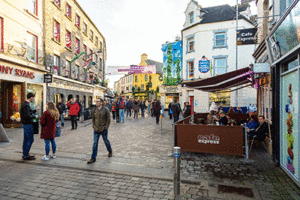 In 2020, Galway was the European City of Culture due to its historical significance and rich culture. The city is renowned for hosting celebrations and festivals that attract tourists from all over the world. It is also called "The City of the Tribes" due to the history and reputation of its rulers. The names of the tribes are demonstrated on the walls of the city. Its strategic location on the coast made it's a center point for trade and commerce. Galway exported agricultural produce, marble, and wool. At the end of the 20th century, modern technologies in the fields of engineering and computer programming were introduced.
Galway County Birth Records
To obtain birth records, you can resort to the General Register Office, Werburgh Street, Galway 2. Birth records since 1 January 1864 can be found at the General Register Office that even offers free access to the records online. Other useful resources include websites such as Familysearch.org which records from1845 to 1958. There you can find many church and civil records.
Galway County Death Records
To get Galway's death records, you need to visit the General Register Office since these records are not available at the National Archives. Third-party genealogy and ancestry sites can also be useful for your search in addition to From-Ireland.net. The records indicate the name, age, marital status, and period of sickness. Also, the date, location, and cause of death are stated in addition to the informant's signature, qualification, and dwelling.
Galway County Marriage Records
The marriage records of Galway can be found at the General Register Office or the Galway County Council. These records can provide you the full names of the spouses and the date of marriage. Other websites that can be useful are From-Ireland.net and familysearch.org.
Galway County Divorce Records
In 1995, divorce was legislated in Ireland. Divorce records can be obtained from the National Archives of Ireland. They contain plenty of useful information like the names of the spouses divorced, their age, and possible details about their families or the children that they may have had.
Galway County Genealogy Records
To trace your ancestor, it is recommended that you first find the town of residence. On the websites Familysearch.org and Roots Ireland, you can find different kinds of records including birth certificate records, death certificate records, and marriage records. The Galway County Council also allows you to search such records.
Galway County People Search Records
If you are looking for someone, you can refer to the General Register Office or Familysearch.org. Moreover, local libraries in Galway can provide you with additional information for your search. The website of the Galway County Council can also guide you in your search for missing individuals or ancestors.
Galway County Court Records
National Archives of Ireland contains many court records that date to 1992 when the Irish state was formed. You can even find transportation records of convicts between 1788 and 1868 inclusive. This practice of transporting convicts to Australia was stopped, yet searching such records may be helpful for your search. Local libraries and newspapers may contain helpful information like reports of crimes and court dates.
Galway County Criminal Records
Looking up criminal records can be carried out by resorting to the National Archives of Ireland. The majority of the legal records before 1983 are available online, so you will need to schedule a visit. Staff always recommend that you carry out a search about governmental and court records before your visit in order to save time and obtain the best results.
Advertising Disclosure: This post may contain promotional links. publicrecordsearch.co.uk may be compensated if you use these links.