Address:
National Archives
Bishop Street,
Dublin 8,
Ireland
D08 DF85
Phone number: +353 (0)14072300
Email address: query@nationalarchives.ie
Website: https://www.nationalarchives.ie/
When you are carrying out research on someone, you can choose to contact the National Archives in order to access public records. Some people prefer to visit the National Archives in Dublin. Indeed, this is possible when you have a valid Reader's Ticket. In addition, you will need your photographic identification and proof of address in order to gain access.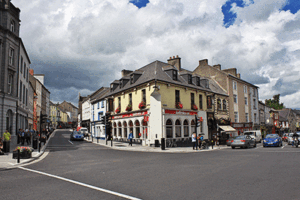 You will find Kilkenny county in the South-East Region of Ireland and in the province of Leinster. There are around 99,000 people that are calling Kilkenny County their home in Ireland and it is named after the city with the same name. If there is something that everybody knows Kilkenny County for it is the medieval building and castle. In Ireland, locals will call the area Contae Chill Chainnigh.
Kilkenny County Birth Records
One of the first places that people look for information on an individual is on birth records. Indeed, they are able to provide good information on a person. This can include their name and age, as well as gender and about their parents. This can give you a better idea of their life and family tree. In order to find birth records, you can use the General Register Office or the National Archives of Ireland.
Kilkenny County Death Records
If you want to obtain death records, the best place to go is the General Record Office or GRO. This is something you are able to do for free. In particular, you can find death records from 1837 to 1957 and 1984 to 2019 with the right information. This is going to provide you with everything from a person's full name and sex to their marital status. You can also learn more details about their death, such as the time and location. If the person had children, this can be included in their death records.
Kilkenny County Marriage Records
In order to gain knowledge about a person, you can consult their marriage records. This is something you can get your hands on by visiting the General Register Office. Marriage records are classed as public records. From these records, you can learn the names of the spouses, their ages, and the year they got married. In addition, you can find out where the marriage took place.
Kilkenny County Divorce Records
When you are searching for a family member or friend, a lot of people head to divorce records. It is important to be aware that divorce was not legally recognised in Ireland until 1995. Thus, there are only going to be divorce records after this time. From this, you can learn the names of the spouses and their birth dates. You can also gain more information about any judicial proceedings and arrangements that happened as a result of the divorce.
Kilkenny County Genealogy Records
Do you want to find out more about your ancestors? Everything from birth records and marriage records, as well as other genealogy records, is going to help you. But, it does not stop there. There are also church and parish records that can be incredibly useful at piecing together stories and building a family tree. For instance, they can allow you to learn more through wills, baptisms, and funerals.
Kilkenny County People Search Records
If you are carrying out a people search and looking for an individual, you can use the Office of General Register for information. Other good sources for this type of project include reading old newspapers and visiting local libraries. A lot of good details are contained in birth and death certificates, as well as marriage documents.
Kilkenny County Court Records
If you are seeking court records, these can be found in the National Archives. In Ireland, this organization has records from 1992 onwards. In court documents, it is possible to learn about relevant marriage certificates and property transfers, as well as other useful information. You can also look in newspapers to expand on the court record details you have found.
Kilkenny County Criminal Records
It is possible that you can gain access to criminal records from the National Archives. But, ensure that you learn if you can access them researching the laws of the Government. Another source that can be useful is local journals. They can report on crimes and this can give you additional information. Note that the person you are looking for may not be the perpetrator of the crime. They might be the victim or an eyewitness of a crime instead.
Advertising Disclosure: This post may contain promotional links. publicrecordsearch.co.uk may be compensated if you use these links.