Address:
National Archives
Bishop Street,
Dublin 8,
Ireland
D08 DF85
Phone number: +353 (0)14072300
Email address: query@nationalarchives.ie
Website: https://www.nationalarchives.ie/
Limerick County
Limerick County is situated in the Shannon Region of Ireland, in the province of Munster. Limerick City, the Republic of Ireland's third-largest city, is the county's capital, and it has a population of 94,192. The role of the Public Record Office of Ireland lies in Ireland's National Archives. It is situated in D08 DF85 at Bishop Street, Ireland.  If you want to visit the office, you are required to show a photographic identification as well as proof of address. The Reading Room is available for users and visitors with a reader's ticket from 10.00 am until 17.00 pm on Monday to Friday. Various documents, records, and microfilms can also be ordered from 10:00 am until 12:15 pm and 13:30 pm until 16:00 pm.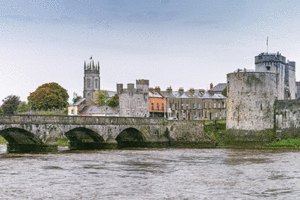 Limerick County is a historically significant and ancient location, with signs of human occupation dating back 5,000 years. Lough Gur contains the country's largest stone circle, a dolmen, and other ancient remains, making it one of Ireland's most significant archaeological sites. Limerick County, as we know it today, was established in the 1250s and is home to numerous fine medieval temples. The medieval towns of Adare, Askeaton, Kilmallock, and Newcastle West are home to magnificent castles and abbeys. Kilmallock, Rathkeale, and Ballingarry all have beautiful nineteenth-century churches. Adare is one of Ireland's most charming villages, with its magnificent manor and exquisite thatched cottages.
Limerick is the home of "The limerick," a famous five-line humorous poem believed to have originated with the Maigue Poets of Croom, Co. Limerick, in the 18th century.
Limerick County Birth Records
The General Register Office or national archives in Ireland allows you to browse for birth documents. Arranging some research before your visit is an excellent way to make your exploration easier and take advantage of your visit. Accordingly, the records of birth are an excellent resource. They provide the name, age, gender, and even parental details of an individual, which may be useful for your quest.
Limerick County Death Records
The GRO search will enable you to locate the death records free of charge between 1837, 1837, and 1957, and also in the years between 1984 and 2019. The full name, sex, marital status, and age of the deceased, as well as time, place, and cause of death, are on the death record. In addition to the names and ages of his children, in particular cases, you can also receive the birthplace of the deceased, but only in death records released in 1855.
Limerick County Marriage Records
The marriage records of Limerick can be extremely helpful for you if you search for a certain individual. You can request a marriage certificate from the General Register Office. These records contain the full names of the spouses along with their marriage date.
Limerick County Divorce Records
In 1995, legislation was declared for judicial divorce in Ireland. Divorce registers will present you with information about their wives and relatives, which would also include full names and birth dates. Records also contain incidents of abductions of children, court proceedings, trials, and lawsuits.
Limerick County Genealogy Records
The archives of birth certificates, death certificates, and matrimonial documents can be very useful in cases where you want to identify the family history or if you were in a quest search for a certain family member. The records of divorce found in court may be helpful in the event of a separated or divorced family member. Church records and Parishes may include valuable details such as wills, burials, baptisms, and the tax lists for genealogical inquiries.
Limerick County People Search Records
If you want to launch a search or lookup particular people or families, you are kindly requested to check with the Office of the General Register. Local library and newspaper options are also available for your search quest. These tools will help you find certificates of birth, death certificates, or marriage documents that are needed to locate individuals you are searching for.
Limerick County Court Records
The National Archives of Ireland have documents of court with most of the holdings preceding back to 1992. Much useful information, such as marriage licenses, land transfer, estate and ownership transfer with specified names can be retrieved from court registrations. More details including court times can also be found through newspapers.
Limerick County Criminal Records
You can find criminal history while searching the national archives of Ireland. Keep in mind that you should really know about the legal rules of the government in order to facilitate the search operation. Further information about the individual you are looking up will also be available in regional publications if, for instance, if there is a section that reports their name in a felony or other tragic occurrence about the individual. Consider the possibility that the person you are inquiring on maybe either an inmate, survivor, or testimonial is the one you are looking for.
Advertising Disclosure: This post may contain promotional links. publicrecordsearch.co.uk may be compensated if you use these links.