Address:
National Archives
Bishop Street,
Dublin 8,
Ireland
D08 DF85
Phone number: +353 (0)14072300
Email address: query@nationalarchives.ie
Website: https://www.nationalarchives.ie/
Mayo is a county in Ireland located in the province of Connacht. In 2016, the population of the county was reported to be 130,507. County Mayo, in the west of Ireland, is the country's third-biggest county, with 5,398 square kilometers. Mayo formed a diocese in the 12th century, but roughly 500 years later, it was merged with Tuam. The county was named 'Mayo' after the famed monastery and diocese when it was founded about 1570. Mayo is known in Ireland as Maigh Eo, that signifies "plain of yew-trees."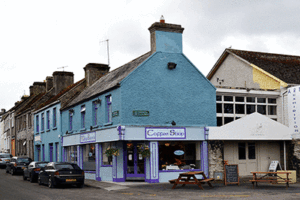 It is a county with a diverse landscape, breathtaking vistas, natural amenities, and a rich archaeological, historical, and sporting legacy that appeals to geologists, botanists, archaeologists, historians, anglers, mountain climbers, sports enthusiasts, adventurists, ramblers, and tourists alike.
Mweelrea (819m), Connacht's highest peak, is the beginning of a mountain chain that includes Ben Gorm, Ben Creggan, the Sheeffry Hills, Maumtrasna, and the Partry mountains. Doo Lough, Delphi Lodge, the Aasleagh Falls, Lough Mask, Lough Corrib, and Cong are all located in this area that offers one of the most stunning landscapes in the county.
Mayo is home to Croagh Patrick and Ballintubber Abbey, as well as several medieval friaries and the Marian Shrine of Knock. Its magnificent curved coastline and outlying islands provide perfect and diversified habitats for wildlife.
Mayo County Birth Records
Both General Register and the Ireland National Archives can provide you with the needed birth records you are looking for. Preparing your visit beforehand can considerably help you narrow your search possibilities and to manage your time wisely during your visit. The birth records can give a large range of data and information. The database includes information varying from the name, age, gender, and even information for parents that might be very beneficial to your search.
Mayo County Death Records
The General Record Office (GRO) provides you with death records from 1837 to 1957, and from 1984 to 2019, free of charge. From these records, you can acquire the complete family name, sex, marital status, and age. In addition, the time, location, and cause of death for the individual you are looking for. You can find the birthplace of the dead and his children's names and ages if the death records had been issued before 1855.
Mayo County Marriage Records
Marriage records could be highly helpful and relevant in your search as they may assist you to trace a person you are searching for, and learn more about this individual. In accordance, you can visit the General Register Office or the Mayo County Council to obtain these marriage registration documents. You will have access to a wide range of related documents and records that are sorted into databases. The names of the wife, husband, wedding year, place of marriage, and even their age will also be given to you.
Mayo County Divorce Records
Legal laws governing divorce were introduced in Ireland only in 1995. Divorce records may provide a great deal of information, particularly complete birth names and dates, about spouses and families. The records document all judicial proceedings, court visits, and even court hearings.
Mayo County Genealogy Records
When you are trying to identify your ancestry or find a family member, the birth, death, or marriage data may all be very beneficial in your search. For example, if you are searching for a family member who is divorced or has a close or distant relative who is divorced, it may be helpful to search for divorce documentation from the courts. It may also include crucial genealogical data such as wills, funerals, baptisms, and tax lists in the Church's registers and parishes.
Mayo County People Search Records
If you are searching for a particular individual, kindly contact or visit the Office of General Register. You may also obtain other information that might be of great value to you throughout your search from local libraries and newspapers. Birth certificates, death certificates, or marriage certificates, may be of an extreme benefice in helping you find the person you are looking for.
Mayo County Court Records
The National Archives of Ireland, which has a vast amount of archives dating back to 1992, also provides you with accessibility to the Court documents. A variety of pertinent information, such as marriage records, transfer of property, transfer of assists, and money, with the designated names, may be provided to you by court records. Additional information, including judicial proceedings, can also be found in newspapers.
Mayo County Criminal Records
You search through the database and documents at the National Archives office to find criminal records. To make your search process run more smoothly, it is a smart option to familiarize yourself with federal court legislation. Local media may offer new information about the individual you are searching for. For instance, you may find a section noting the individual engaged in a crime or an unpleasant accident. Assess the possibility that the individual you are searching for maybe a criminal, a victim, or an eyewitness.
Advertising Disclosure: This post may contain promotional links. publicrecordsearch.co.uk may be compensated if you use these links.