Address:
National Archives
Bishop Street,
Dublin 8,
Ireland
D08 DF85
Phone number: +353 (0)14072300
Email address: query@nationalarchives.ie
Website: https://www.nationalarchives.ie/
Meath County
In Ireland, Meath is a county and is located in Leinster province and forms part of the region of Mid-East, with a population equating to 195,044. The tasks and functions of the Ireland Public Record Office falls under the Ireland National Archives. It is essential to carry photographic identity and evidence of address if you want to visit. There is a reading room that is available to all guests with a reader's ticket from Monday to Friday between the hours of 10.00 am and 17.00 pm. Also, numerous documentation and archives can also be requested from the office between the hours 10.00 am to 12.15 pm and from 13.30 am to 16.00 pm.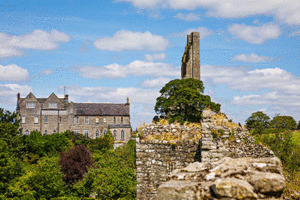 Meath is Ireland's 14th biggest county by area and the 8th largest by population. With respect to size, it is considered the second largest amongst 12 counties in Leinster and the third largest with respect to the total population. Meath borders with seven counties: eastward Dublin, eastward Louth, westward Westmeath, western Offaly, southward, and northward Cavan, and Monaghan.
There are many ancient tombs and burial sites in Co. Meath, the most notable of which is the "Bru na Bóinne site", which contains the 5000-year-old megalithic tombs of Newgrange, Dowth, and Knowth. There is a tomb near Oldcastle, the passageway of a similar era, and there are also about 2500-year-old burial mounds of controversial origin in the Teltow village. There are also temples and remnants on Tara Hill and Slane Hill that date from thousands of years ago, including the famed Stone of Destiny, the crowning place of ancient mythical kings. This momentous honor led Co. Meath to become renowned as 'The Royal County.'
Meath County Birth Records
The General Register Office has free online access to birth certificates dating back to January 1, 1864. The records were open to the public until 1870, and some were stored in the Public Record Office of Ireland (PROI), which has become the National Archives; nevertheless, they were eliminated in 1922. Registers are also used in only a third of the parishes of the county. Birth records can also be found in the National Archives' microfilm or other copies of the remaining Church of Ireland parish rolls.
Meath County Death Records
In order to obtain Meath death records, you have to contact the General Register Office and schedule a visit because the National Archives do not have these types of records online. These types of records show the name, age, marital status, and the disease period. Along with the signature, qualification, and residence of the individual, the date, place, and cause of death would also be indicated.
Meath County Marriage Records
In order to obtain marriage records in Meath County, you may refer to the General Register Office or the Meath County Council to get marriage records. A vast archive of documents can be searched and detailed details can be found so the complete spousal names and marriage date.
Meath County Divorce Records
It was not until 1995 that divorce was legalized in Ireland. You may commence your search in the National Archive of Ireland to request and acquire divorce records in Meath. Many information can be obtained from their documents that can allow you to scan. For instance, you will find the names of the divorced married couple, their age, and potential information about their family or their children.
Meath County Genealogy Records
If the person you are looking for is a possible family member, or you are just intrigued about your descendants, you are required to conduct a genealogic search. The Ireland National Archives provides you with access to a wide array of information about death, marriage, divorce, abuse, work, and migration. So you get several key points which will facilitate your quest.
Meath County People Search Records
If you are looking for missing individuals or potential ancestors, the General Register Office and local libraries in Meath County can assist you with various details you may need. A helpful place to look at is the Meath County Council. Additional facilities that can further provide you with information are local newspapers that may have detailed information on the person you are searching for.
Meath County Court Records
There are several court documents in the National Archives of Ireland, which date from the founding of the Irish State in 1992. Beneficial records such as police records and court dates may be found in local libraries and news. Also, legal papers contain court hearing transcripts, certificates of marriage or divorce, and birth or death certificates.
Meath County Criminal Records
You can find criminal histories in the National Archives of Ireland. The most important legal documents you can browse before your visit before 1983 are available online. The team were advised to conserve time to achieve the highest performance. You will find the full name, date of birth, sex, and other detailed information in the court records. Bear in mind that the individual that you are searching for, may be a suspect, a survivor, or a criminal witness. This suggestion will help you to find and expand your quest strategy.
Advertising Disclosure: This post may contain promotional links. publicrecordsearch.co.uk may be compensated if you use these links.