Address:
National Archives
Bishop Street,
Dublin 8,
Ireland
D08 DF85
Phone number: +353 (0)14072300
Email address: query@nationalarchives.ie
Website: https://www.nationalarchives.ie
Monaghan is a county in Ireland and is part of the Border Region and is in the province of Ulster. As of 2016, the county had a population of 61,386. County Monaghan is named after the Irish "Muineacháin" which means 'little hills.' Historically colonized from early times, over the years several Bronze Age artefacts have been uncovered in the area. Further on, it was the center and center of the Kingdom of Oriel, and it is believed that an old monument near Donaghmoyne was the house of the Oriel Kings.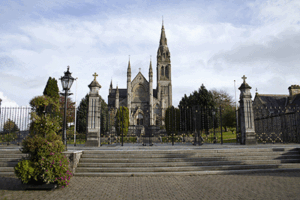 During the 10th and 11th centuries the Vikings conquered Monghan county, while the Normans invaded the county after them. Moreover, before Plantations in 17th Century, County Monaghan was dominated by the McMahons, who occupied four fifth of its territory, and the one fifth was occupied by the McKennas. In 1585 when the Elizabethans chose to split Ulster into shire-land, the borders of the county were drawn out, almost identical to what is currently the case, but the county was formally created and called not until the first decade of the 17th century.
During the Grand Famine of the 1840s, County Monaghan was amongst the most stricken counties in all of Ireland and had a half-dozen. In 1921, Monaghan County became a Border County and was severely affected by the forced partition of the country.
Today, the county contains several heritage sites which show its rich and varied history. Some of the cities and villages have history paths with significant locations of significance and escorted tours are also available to add to your experience. Notable sites beyond the town trails include the historic tombstones of Errigal Truagh and Donagh, the Temple in Dartrey and the sites of Drumirril Rock Art.
Monghan County Birth Records
The General Register Office or the National Archives of Ireland are both ideal locations to look for the needed birth records. Researching ahead of time for your visit can help you narrow down your search possibilities and make the most of your time there. Birth records might well be a gold mine of information and data. They may contain information including the person 's name, age, gender, and even information about their parents, all of which might be incredibly helpful in your searching quest.
Monghan County Death Records
Death records from 1837 to 1957, as well as from 1984 to 2019, are available for free at the General Record Office. You can get the full surname, sex, marital status, and age of the person you are searching for, and information on when, where, and why they died. If the death records are older than 1855, you can further learn about the deceased's birthplace, name, and age of their children.
Monghan County Marriage Records
Marriage records may be quite useful and valuable in your search since they can help you discover and know more about the person you are looking for. Such marriage records can be acquired by going to the Monaghan County Council or the General Register Office. You will have access to the records with a large compilation of documents in them. You will also get the names of their spouses, as well as details on their wedding year, place, and age.
Monghan County Divorce Records
Legal legislation regarding divorce was not implemented until 1995 in Ireland. A great deal of information on spouses or family members can be included in divorce papers, including full names and dates of birth. Incidents, legal processes, and court proceedings, along with other matters, are among the information contained in the divorce records.
Monghan County Genealogy Records
The history of birth, death or marriage may be quite useful when you look for a family member or your ancestors. When you would want to identify a divorced family member, or if you have a close relative who is divorced, it can be useful to obtain divorce papers issued by the courts. Notable genealogical details may include church documents and parishes, containing wills, burials, baptisms and lists of tax.
Monghan County People Search Records
If you are searching for a specific person, make sure to contact the General Registry Office. During your search, you can obtain additional and publicly available information in local libraries and newspapers, which may be quite useful. To find the individual you are looking for, you can use relevant data from birth certificates, death certificates, or marriage certificates.
Monghan County Court Records
The Court's documents are accessible at the Ireland National Archives from multiple sources in 1992. You can obtain wide range of vital information, including marriage certificates, monetary transactions, and property transfers with the names of respective recipients listed on them. Extra information can be discovered in newspapers, such as legal procedures.
Monghan County Criminal Records
In the Ireland National Archives, you may begin searching for criminal records. Please note that it is usually good for understanding of government legislation to facilitate your search. For example, if one section relates to a crime or horrific circumstances, local newspapers may contain more information about the person concerned. Be aware that the person you are looking for might be a victim, a condemned person, or even a criminal testimony.
Advertising Disclosure: This post may contain promotional links. publicrecordsearch.co.uk may be compensated if you use these links.