Address:
National Archives
Bishop Street,
Dublin 8,
Ireland
D08 DF85
Phone number: +353 (0)14072300
Email address: query@nationalarchives.ie
Website: https://www.nationalarchives.ie/
Offaly is a county in Ireland that is part of the Midlands Region and is also located in the province of Leinster. As of 2016, the population of the county was 77,961. Offaly, also known as "Kings County", is the 18th biggest district and 24th biggest in terms of population of Ireland's 32 counties. It is the fifth biggest by size and the tenth largest by population among Leinster's 12 counties. After the Tudor plantations of Laois and Offaly, the county was created in an endeavor by the English Crown to increase its area of influence in Ireland, which had dwindled since the Norman Conquest.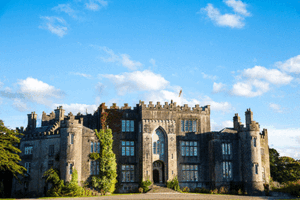 Tullamore is Ireland's 30th biggest county city and the main city in the city of Offaly. Seven counties are bordered by Offaly: Galway, Roscommon, Tipperary, Laois, Westmeath, Kildare and Meath. In the south of the county, Slieve Bloom Mountains are located on the borders with Laois County. Offaly contains Ireland's twenty fourth highest county peak.
The county's highest points are found in the Slieve Bloom Mountains, including Stillbrook Hill and Wolftrap Mountain, the county's second and third highest summits, respectively. Croghan Hill is a hill in northern Offaly that rises from the Allen Bog.
It has a mostly flat landscape and is renowned for its extensive bogs and peatlands. Offaly has a number of huge bogs, including the Bog of Allen, Clara Bog, Boora Bog, and Raheenmore Bog, which are scattered around the county, with the Bog of Allen spreading into four other counties.
Offaly County Birth Records
The General Register Office (GRO) provides documents going back to1864, which are easy to retrieve and free of charge online. Until its abolition in 1922, some of the documents and records were made accessible to the public and were kept at the public record office of Ireland (PROI), which has since become the national archives. . Birth certificates and other important documentation can also be found at churches and parishes. The National Archives can also provide birth certificates and parish records.
Offaly County Death Records
Dearth records may provide a lot of useful information on the person you are searching for. However, it is critical to remember that the National Archives does not contain any death records. Consequently, you can travel to the General Register Office if you need such documentation. These records include information such as a person's name, age, marital status, and the period of their illness. It also incorporates the signature, occupation, and address of the dead, as well as the date, place, and cause of death.
Offaly County Marriage Records
Marriage records are essential for locating a specific individual and learning more about their relatives. Marriage records for Offaly County can be obtained through the General Register Office or the Offaly County Council. You will get access to a vast amount of documents and records that have been sorted into databases. You may get the spouses' complete names, wedding year, marriage location, and age.
Offaly County Divorce Records
Legal legislation for Divorce in Ireland was not permitted until 1995. A visit to the National Archives of Ireland can help you find and also get divorce documents in Offaly County. Divorce records might include a lot of information that will aid you in your search quest. You may find out the names of the divorced spouses, their ages, and details about their family, relatives, and any children they may have had.
Offaly County Genealogy Records
Whether you are looking for a prospective family member or simply want to learn more about your ancestors, genealogy research is a good place to start. The National Archives of Ireland provides access to a comprehensive database of public documents in Ireland, including death, marriage, divorce, criminal, employment, and migration data. As a result, you will have access to a wealth of information that will certainly help you accelerate up and optimize your search.
Offaly County People Search Records
The General Register Office, Offaly County Council, and Offaly public libraries could be able to assist you in your searching quest for a particular individuals or possible relatives. Newspapers, particularly local newspapers, are another important source of information to find motr about the individual you're looking for. Nevertheless, keep in mind that if you are searching for a specific person, going through genealogy databases is the best place to start.
Offaly County Court Records
The National Archives of Ireland has a significant collection of court data spanning to the Irish state's inception in 1992. Documentations and records from court proceedings, marriage, divorce, birth, and death records are all examples of court files Researchers ought to familiarize themselves with the court level to which the documents relate, as well as the criminal trial and date, before beginning their inquiry. More data, and information such as court dates, can be found in newspapers.
Offaly County Criminal Records
Criminal records can be found by searching the National Archives' database and documents. To make your search procedure go more effectively, it is a good idea to become familiar with the government courts legislation. For example, you can find sections detailing documenting the individual's involvement in a crime or a serious accident that was published by local media to offer further information on the person you're looking for. Consider the possibility that the person you are looking for is a criminal, a victim, or a criminal witness.
Advertising Disclosure: This post may contain promotional links. publicrecordsearch.co.uk may be compensated if you use these links.