Address:
National Archives
Bishop Street,
Dublin 8,
Ireland
D08 DF85
Phone number: +353 (0)14072300
Email address: query@nationalarchives.ie
Website: https://www.nationalarchives.ie/
Situated in the province of Munster, you are going to find County Waterford. Located in the South-East Region of Ireland, this is a county that named after the city. It enjoys having many rives, as well as two mountain ranges. Commonly, Waterford County is referred to as The Déise. There are around 119,000 people living in Waterford County.
Waterford County Birth Records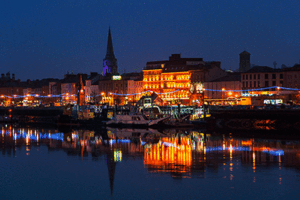 Looking for birth records is very common and the best place to start on this quest is at the General Register Office. Alternatively, you can use the National Archives of Ireland to fulfill this activity. It is recommended that you prepare some details in advance in order to find the right birth records you are looking for. Indeed, birth records can be a great way to find out personal information about a person. This can include their full name, age and gender. In some cases, you can also read about their parents.
Waterford County Death Records
Alongside birth records, it is common for people to search for death records. They can contain a wealth of information. Civil registration in Ireland began in 1864. Thus, it should be simple to find death records after this time. In particular, you are able to visit the General Record Office or GRO for this task.
Death records can reveal more about a person than just the date that they died. Indeed, you can find out their full name, sex, birth place, and marital status. You can also learn details about their death, such as the cause of death, location, and time. If the deceased has children, they may be listed on the death records.
Waterford County Marriage Records
If you want to seek out marriage records to gain knowledge about an individual or couple, you can head to the General Register Office. The Waterford City & County Council may also be able to help you. From this marriage record, you can dive into the names of the spouses, as well as the year of their marriage, where it took place, and their age at the time.
Waterford Divorce Records
It is important to note that spouses were not able to enjoy a legal divorce until 1995 in Ireland. But, they can still provide a lot of good information about family members or people that you know. For example, this can include their names and birth dates. More details on any judicial proceedings that were carried out can be included too.
Waterford County Genealogy Records
A lot of people are choosing to build a family tree and learn more about their lineage. If this sounds like what you would like to do, there are a lot of public records out there to do so. Namely, birth and death records, marriage records, and genealogy records are going to be useful. Of course, the General Register Office is going to be a good place to start. But, there can also be intriguing details available from church and parish records. For instance, you could gain information on wills and funerals, as well as baptisms and tax lists.
Waterford County People Search Records
When you are looking for a person, it is best to make an inquiry with the Office of General Register. Some additional resources you can consult are local libraries and looking at newspapers online. For example, this might be a way to take a look at birth certificates and death certificates. Marriage documents may also be available.
Waterford County Court Records
The National Archives of Ireland can reveal court records that you may find interesting. These are going to be records from 1992 onwards. You may find that local and national newspapers can provide you with additional information. The official court documents themselves can contain data from marriage certificates and about property transfer, as well as some other personal information.
Waterford County Criminal Records
Ireland's National Archives can be a good place to go to access criminal records. Before this, ensure that you know the laws of the Government to understand what information you are able to access. Local journals can also be a good resource for information on an individual. Note that a person you are looking for may be mentioned if they are a victim of a crime or are part of an eyewitness account.
Advertising Disclosure: This post may contain promotional links. publicrecordsearch.co.uk may be compensated if you use these links.